WHAT CAN A PERSONAL TRAINER DO FOR YOU?
More Fitness First members are achieving their goals thanks to the motivation and expertise that our fully qualified Personal Trainers provide.
DISCOVER THE NEW YOU
Every Personal Trainer is Fitness First certified and takes pride in treating every client as an individual. We understand that different training methods suit different people.

Excuses are a thing of the past as our Personal Trainers devise an exercise plan unique to your goal that makes you feel like a new person inside and out.
WHY PERSONAL TRAINING
Our goal? achieving yours
With Personal Training, you get individual attention from an expert who will draw up a training plan customized to get you results. You will have an expert by your side all the way who is certified and equipped with the best tools and knowledge to help you get accelerated results. At Fitness First, you learn from some of the best and most passionate trainers around; you get an education that can empower you to lead a healthy and fit lifestyle.

Fitness First Personal Trainers are highly qualified and take pride in treating every member as an individual. We understand that different training methods suit different people so no matter what your level of fitness or experience, a Personal Trainer can tailor a programme, show you best training practices and how to use gym equipment, inspiring and motivating you along the way.

We have trainers who specialize in all areas of fitness including weight loss, injury rehabilitation, sports training, core and strength training. Working with a Personal Trainer is no doubt the fastest and safest way to get the results you want.

Welcome to Personal Training by Fitness First.
Benefits
Results made personal:
Get the results you want with professional, passionate and highly qualified experts who take your goals and aspirations personally.
Our trainers are all graduates of the Fitness First Asia Personal Training Foundation Programme where their know-how is reviewed, updated and assessed.
For best results, choose Personal Training by Fitness First.
Get accelerated results with Personal Training
- Highly qualified and Certified trainers.
- Customised to address your specific health and fitness goals.
- Motivates and inspires you with personalized attention.
- Exercise with a broad range of cutting edge fitness equipment.
- Educates and empowers you with tools to help you lead a healthy and fit lifestyle.
At Fitness First, we have it all covered.
PHASE TRAINING
About Phase Training
Fitness First's 'Phase Training' framework consists of four phases: Foundation, Movement, Freestyle and Performance training.

Exercises are customized to suit your needs and evolve as you progress. Progression along these four training phases is closely monitored by your trainer to ensure workouts are optimized and plateaus don't hinder development. Best of all, you learn from our experts about exercise principles, equipment use and safety. Completion of Phase Training serves as preparation for phase-combination to form a complete Metabolic Conditioning programme.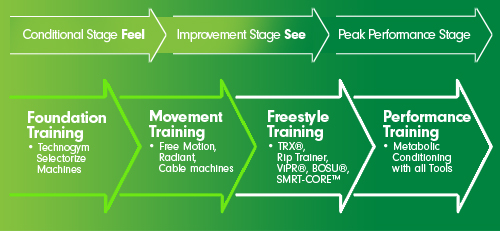 Foundation Training
- Uses equipment by world-renown equipment provider Technogym
- Basic Push and Pull Series of exercises
- You sit or lie down to train most of the time.
- It's safer to start exercise using machines. They help you to feel and control your muscles in a safer way.
Movement Training
- Mobility training is an efficient way to develop and maintain durability.
- We use machines that require you to stand to train so that you start to learn about Ground Reaction training.
- Gravity challenges you, thereby improving your stability. By standing to train, your ability to move safely will be improved and you are prevented from falling into the wrong posture during exercise.
Freestyle Training
- Uses Freestyle equipment like TRX® Suspension Trainers™, TRX® Rip™ Trainer, BOSU®, ViPR™, SMRT-CORE™ GRID™, Medicine Ball, Kettle Bell, Bands and Cables etc.
- Challenges your body via Ground Reaction Training and 'Agility and Quickness' programming.
- Allows you to train your body to be fully functional.
Performance Training
- This is the highest level of training.
- We can now incorporate all the programmes and challenge your body to reach peak performance.
<!-
-->
OUR EXPERTS
All our Personal Trainers are internationally accredited with male and female trainers from different nationalities to suit your preference.
View our personal trainers here
PACKAGES
Standard
Personal one-to-one 60 minute sessions designed to give comprehensive programming to our clients needs focusing on a holistic view of fitness to ensure clients' achieve their Goals.
Express
Designed for maximum results in minimum time. 30 minute sessions allow for those 'one the go', short on time or those new to the world of personal training to experience guided safe instruction to work toward achieving their results.
Buddy
Ideal for those who are looking to train with a friend or family member, this is a 60 minute 'two on one' Personal Training session to help those who need that friendly motivation and competition to achieve success in their lifestyle goals.
Team Training
A group of 4 - 6 people in a focused and fun group environment. Group dynamic adds to the 'fun factor' of any workout helping us go further in our quest for ultimate fitness.
Non Member Personal Training
Especially tailored for the population who are visiting Personal one-to-one 60 minute sessions designed to give comprehensive programming to our clients' needs focusing on a holistic view of fitness to ensure clients achieve their Goals.
Junior personal Training
Offered to those aged 14 and 15 who have the opportunity to be introduced into the heath and wellness lifestyle in the correct way. The aim of these sessions is to educate on the benefits of a health lifestyle and its impact on the future.